Ballpoint pens – the kings of advertising materials
Anyone got a biro? How often have you heard this question or even asked it yourself? The ballpoint pen, also known as biro, has imposed itself as a ubiquitous item in our lives. Pretty much everyone owns one or several, from school children to students and the professionally active. Love letters, lottery tickets, greetings from far-away lands, or just ideas and dreams put down on paper: without the proper writing equipment, much would remain mere illusion.
Studies confirm: ballpoint pens are the kings of advertising materials
Germany
Current scientific studies confirm that the ballpoint pen remains one of the most common and effective advertising materials. Ballpoint pens are used daily by all kinds of people in all sorts of industries; they frequently change owner, are handed on (consciously or not), and so contribute to a high recognition and long-lasting, frequently multiplied advertising effect.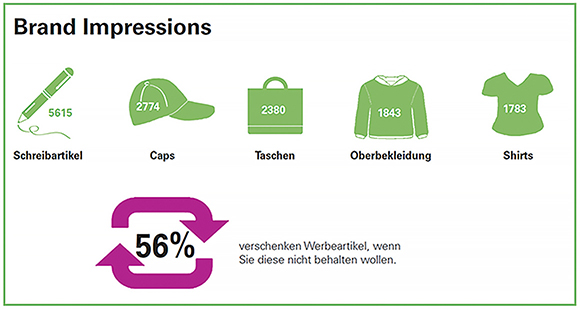 The advertising ballpoint pen is the number one advertising material around the world

Ballpoint pens are not just popular in Germany; internationally too, their comparatively high usefulness and recognition values ensure that they are the top advertising materials almost everywhere. In particular, the advertising ballpoint pen scores on efficiency: the relatively low unit price combined with the wide distribution make the ballpoint pen the perfect advertising medium!
More than just a logo carrier!
Advertising pens – a wide range of possibilities
First things first: not every advertising pen is the same! The range of options, variants and models is huge – from simple plastic items for wide distribution to exclusive ballpoint pens made of metal. When choosing to place advertising messages successfully with a pen, one should therefore consider some criteria for the selection.
Advertising materials – as confirmed by studies by the advertising materials producers association GWW Gesamtverband der Werbeartikel-Wirtschaft e.V. – do not automatically reflect positively on a company's image. Poor or unadapted advertising can also have the opposite effect. The low quality of an advertising material may be projected onto the company whose logo or colours it bears. This is especially true for pens. If these are of a lower quality – for instance with regard to their solidity and finishing, but also to other factors like quality and durability of the ink reservoir – they are barely used or are thrown away quickly, reducing the reach of the advertising.
A "good" product has the opposite effect: people use things they like for a long time. This increases the reach of the advertised message(s). But even more importantly, as use increases, a widely distributed item can become a personal object, leading to an emotional connection to the pen and so to the associated brand – the company doing the advertising.
Positive emotions – that is what advertising materials should arouse. For the best possible effect, one should think about the various aspects to be considered as early as possible. As a leading company in advertising pens, we at uma have listed some of the individual aspects for you:
To find the perfect pen for you, you should consider the following aspects: the uma CHECKLIST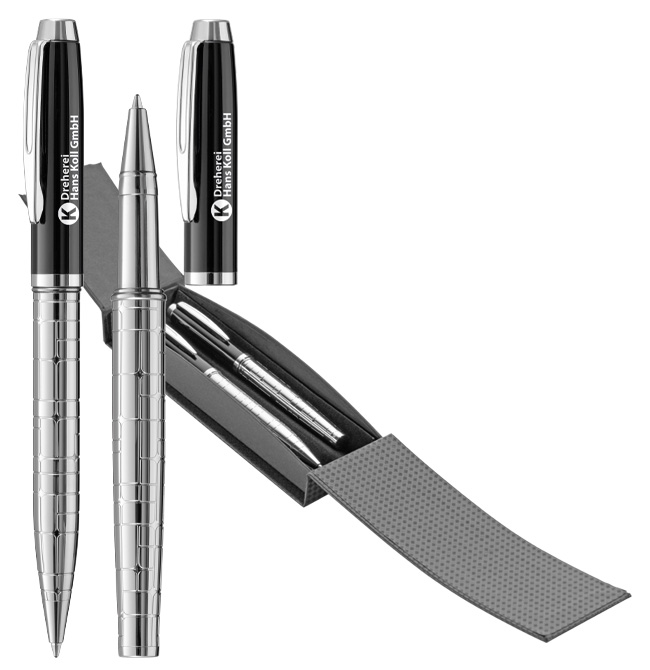 1. Advertising event

- Aims of your campaign? WHY? (boost sales, product placement, brand building, initial contact or activation of contacts, employee appreciation etc.)
2. Target group
- WHO is your target group?
- Target group definition: demographic (age, gender, location etc.), social and economic factors (level of education, salary, profession etc.), psychographic (attitude, motivation, opinion etc.), shopping behaviour (including price sensitivity, sales reach)
- Which design, feel, materials, quality and options are most suited to this specific target group?
3. Production run
- How large is your target group? HOW MANY?
- How many writing instruments are required?
- Large-scale production of ballpoint pens or a small number of unique, high-quality gifts?
- Selection based on specific criteria of the relevant target audience/contacts.
4. Budget

- INVESTMENT? Which price category should the promotional writing instrument fall in? A low-cost, plastic ballpoint pen or high-quality, elegant metal ballpoint pen?

- Elaborate and cost-intensive or simple, affordable finishing?

- Budgets based on target group segments and sub-campaigns.

- Budget per run or based on total budget?
5. Advertising message

- What MESSAGE do you want your campaign to convey?
- What concept or marketing campaign is used? (Statements on products and services, corporate positioning, company philosophy, etc.)
- Advertising effect is greatly determined by the object idea
6. Presentation form
- Dominant and eye-catching or simple, elegant advertising? (See also customisation)
- Quality, design and colour selection based on CI and cutting-edge? Potential special production?
- What information should the promotional item communicate? (Logo, company address, company colour, product, company slogan etc.)
7. Area of application / handorve

- How is the HANDOVER planned? How will the promotional item reach the recipient? (In person or by post, as part of a campaign, at a trade fair stand, as a desk utensil, as part of a product sale etc.) (See also occasions for using promotional writing instruments)
- Use the eye-catching potential of promotional products.
- How will the handover take place? (Enhanced value due to packaging)
8. Timing

- When should the promotional writing instrument be manufactured and ready to use?
- Is there a specific date, e.g. for a trade fair?

The order and points listed may vary depending on the advertising event.
Promotional ballpoint pens – suitable for (almost) every occasion!

A ballpoint pen can be an effective promotional tool for a wide variety of occasions. At uma, we'll be happy to help you choose the perfect writing instrument:
At trade fairs and events
• Create a positive and memorable impact.
• Ballpoint pens as give-aways.
• Customised writing instrument as a trade fair or event invitation.
• Writing instrument with printed address and self-portrait as a "visitor card pen".
• To retain/acquire customers.
For employee retention
• Strengthen employee loyalty/identification to/with the company.
• Show appreciation.
• High-quality writing set with individual name engraving, e.g. as a Christmas gift.
For bonus schemes
• As a high-quality gift Writing set or pen.
• Elegant metal ballpoint pen with engraving
For seasonal promotional gifts
• Valentine's Day, Christmas, Easter, Mother's Day/Father's Day, Halloween,...
As a mailing enhancer
• Mid-range plastic ballpoint pen, perhaps with additional uses.
• Trendsetter, such as the NEON writing instrument.
As basic equipment at conferences and seminars
• Mid-range plastic ballpoint pens through to affordable metal ballpoint pens.
As office and external sales equipment
• iPad pen for external sales staff who work with an iPad.
• Office equipment: low-priced to mid-range plastic ballpoint pen.
As a communication tool
• Information spreader such as the uma SURF QR pen. This writing instrument lets you access information by scanning the printed QR code; a perfect tool for product placement or relaunch.
Upon conclusion of a contract
• For example when collecting a new car, a remembrance gift via a personalised writing instrument.
At voting events
• Low-priced to mid-range plastic ballpoint pens, possibly with a slot card.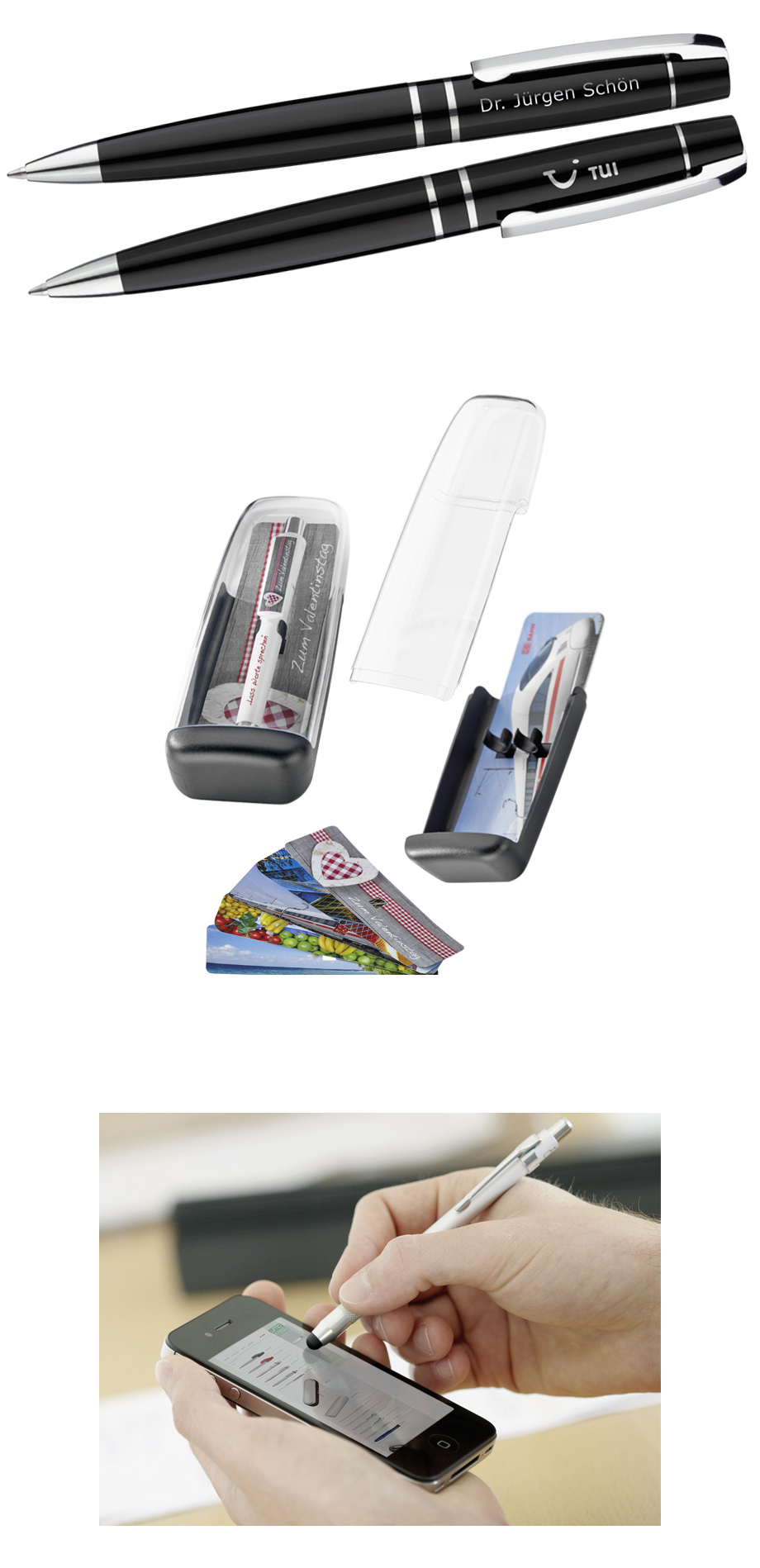 Finishing and customisation
How does one turn a ballpoint pen into individualised advertising medium? Simple – with the right finishing. Here at uma, the number one in advertising pens, we have a wide range of finishings to choose from. And with uma you don't just get the latest technologies, but also highly qualified staff that carries out all the finishing and customisation processes at our headquarters in Fischerbach.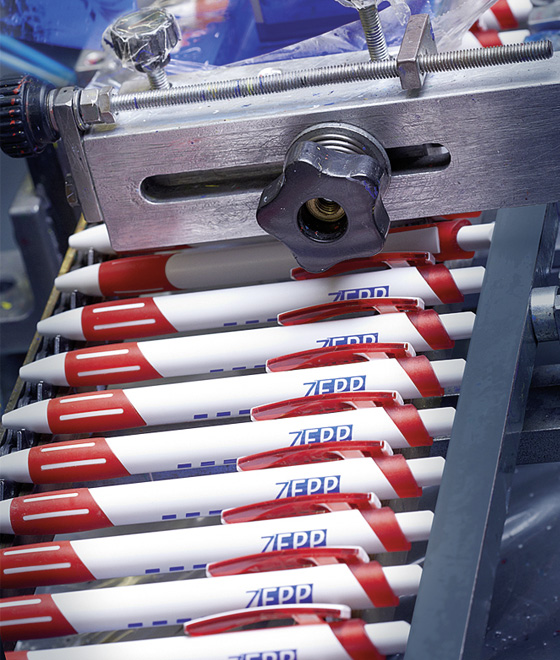 Due to the large number of highly modern screen and pad printing machines, uma is capable of realising half a million advertising prints every day. In addition to the material and shape of the pen, the finishing technique used depends mainly on the advertising message. With such a large range of sizes, colours and shapes, it is only natural that we offer a suitably large range of finishing technologies. That is why at uma, our customers are advised by specialised staff on what printing process is the right one for their needs.

For plastic pens, screen and pad printing are generally used. Metal pens achieve the best advertising effect with etching or laser technology. In addition to these two finishing options, we also provide other processing and finishing technologies at our headquarters in Fischerbach:

› screen printing −> suitable for the shaft
› pad printing/special formats −> suitable for the clip
› laser engraving −> suitable for metal clip, metal shaft, metal case
Tip: individualised writing set with name engraving!
Surprise your customers, business partners or employees with fully personalised pens. Laser engraving is a high-quality finishing technique that enables adding personal names even on small volumes -> individual name engraving.

uma VISUAL (transfer printing) −> only suitable for the shaft. This technique allows you to place your individual messages on the full surface of the pen's shaft – visible and attention-grabbing.

Label printing −> only suitable for the shaft.
Similar to transfer printing, but in this process the design is not transferred from the sheet to the shaft by machine but is manually placed on the pen.

› uma HD (digital printing) −> suitable for flat surfaces
› Doming
To achieve optimal printing results requires that the templates are made available at the highest quality. In screen printing for example, vectorised templates with a resolution of 1,200 dpi are required for a clear, sharp printed image. The uma catalogue contains information on what print templates are required for the desired finishing process and how best to transmit them.

Success has many faces – the diversity of uma
First impressions matter. Our world is that simple, or that complicated. This is true for private relations, but also for business ones. The decisive foundations for a sympathetic, attentive relation or a willingness to engage are laid in a few instants. Quite often it's the supposedly little details that make the difference – for instance choosing the right advertising pen.

Pens are popular individual items. Inspired by the rich diversity of used materials, from plastic to metal and wood, uma offers a wide range of modern biros to advertise and write with, from noble to pop, from discrete to colourful, from delicate to opulent.

In the world of advertising pens, uma has long stood for an outstanding range of models. The market leader from the Black Forest continues to wow its customers and trading partners with its boundless creativity and great designs. By now the uma product range extends to over 200 models – which in turn can frequently be varied in terms of colour and finishing. Customers can also rely on uma for a wide set of accessories such as cases, which can also be finished with advertising messages.

The right pen for me?
In our overview you can see what pen is the right one to transport your advertising message: Ballpoint pen product specification.

Ballpoint pen – constantly reinvented
When a company like uma sees itself as "The handwriting of advertising", it is naturally obligated to always live up to this aspiration. The market leader from the Black Forest has long been a pioneer in innovative ideas that attract attention. Because we believe that advertising pens should not just write – they should excite!

The world of uma is colourful, diverse and always surprising. See for yourself the creativity with which uma sets new trends – and creates unmistakable, distinctive and unforgettable advertising media:
The calling card pen – sign with your good name!

With digital printing, multi-colour prints are possible even with small volumes. This makes even small volumes cost-effective – even unique items like a unique and fully personalised advertising ballpoint pen. A writing calling card: feels good in the hand, stays long in the mind!

Advertising pens with this finishing are appropriate in all industries in which personality is the decisive factor, for instance for the sales force or representatives of insurance companies, banks, food & beverages companies or the telecoms industry.


Surf QR – the writing connection to the digital world!

Through the QR code placed on the clip, this pen lets you create a direct connection to digital information. You can freely choose the information to be transported by the QR code, whether a link to a website or a digital calling card. The QR code is simply scanned with the smartphone and the information immediately lands on the target group's phones.

You can additionally use it to measure precisely when and how often the advertising message was actually called up – allowing you to review your marketing concepts.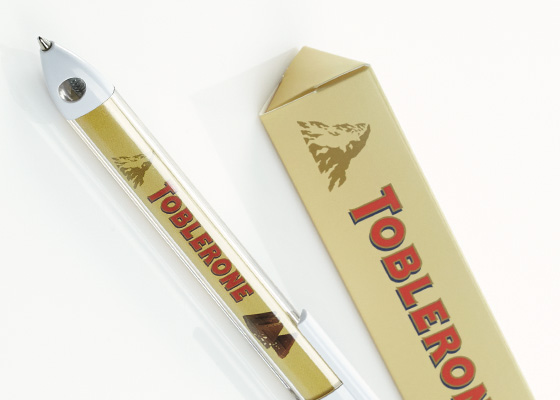 Inside CI – strikingly different!

The uma INSIDE CI is more than just a ballpoint pen. With its special triangular shape, it stands out in the crowd and from the competition. It doesn't just look good, it feels really good in the hand. It makes writing even better! The advertising surface of the uma INSIDE CI is made of paper, and with its large dimensions it enables sending more complex advertising messages than just a logo. The high-sheen, transparent casing underlines the respective content, giving rise to brilliant advertising messages that can be perfectly customised to each company or event.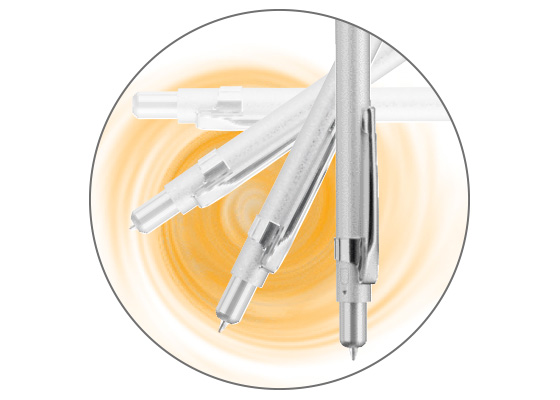 Magic Duo – the innovative 2-in-1 pen

The uma Magic DUO M TOUCH possesses, in addition to the touch screen tip in the pusher, a special ballpoint pen reservoir that appears just through twisting.

The reservoir's catch is a technology protected by international copyright. This makes the Magic DUO M Touch by uma the first 2-in-1 touch pen to include this innovative function.
Cartridge roller systems – for cost-effective and environmentally friendly advertising!
The uma cartridge roller system – the innovative foundation for premium-quality roller pens. The specially developed low-wear ball point makes the roller system exceptionally durable. It works on the fountain pen principle and can be refilled with standard cartridges. Good for the environment – and for your wallet!
Inlay CI – an outstanding advertising medium

With the innovative INLAY CI, uma demonstrated that a case can also be an outstanding advertising medium – and we did so so conclusively that the jury of the Promotional Gift Award had to give us a prize. The inlay can be fully customised to the desired customer CI – for perfect advertising messages. Whether you opt for a metal or plastic ballpoint pen to go with it is fully up to you. The combination of pen and case creates unique advertising ideas and truly unique items that get people excited, attract attention and make every handover a unique experience.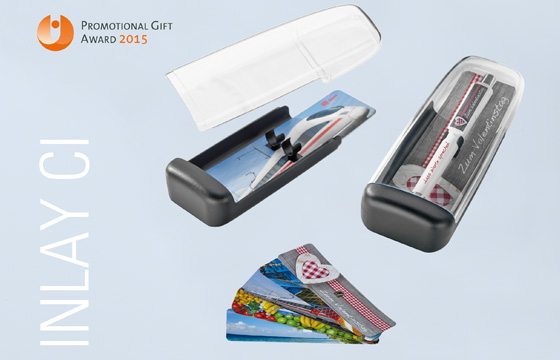 Simple and quick: the uma product configurator
The journey to the perfect pen can be this easy: with the uma product configurator, you can quickly and simply put together your own pen. The configuration options are numerous – you can select the material (e.g. plastic or metal ballpoint pens) and the colour, but also the shape and function. The price range of the pens can also be individually defined. uma offers a wide assortment for every taste and budget – from simpler models for wide distribution at a price of around € 0.20/piece to noble single items for up to € 20/piece.

A fun and easy way to discover the endless diversity of uma! What model, what shape, what colour is right for you? Just try them out! To get an even better impression of your future advertising medium, you can upload your logo right away and place it on the desired pen. Looking good? We think so too! Furthermore, our uma product configurator allows you to get a 360° view. The logo is adapted three-dimensionally to the shape of the selected pen. This way, you can make sure that your choice is the right one for you and your customer.

The uma product configurator can be used on most devices: on the desktop PC at home or at work, on the tablet on the go, even on the smartphone. Why not see for yourself right now – enter the digital world of uma. To the uma product configurator
Clear and safe – our approval process
At uma, we are a service provider. Our main mission is to find the perfect promotional writing instrument for our customers. That's why we offer our customers a non-binding visualisation of certain model templates and designs during the research and decision-making process. Upon placing an order, you will receive a single copy (also called a proof) of your chosen pen including logo or advertising message to be checked over by you or your customer. The production process will begin upon approval, which is binding for the print status, size and colour: Your uma writing instrument is then transformed into a reality.

For larger production runs or customer-specific special production (e.g. colouring based on Pantone or special variants), we recommend letting us produce an original sample (also called an outturn sample) for approval. The experienced and friendly uma team is always on hand to answer any questions you may have.
Our production process
Development & design
"Our task is to package refills in new, contemporary attire. We develop casings for refills. They need to look elegant, visually appealing and be satisfying to hold. Companies that use ballpoint pens for advertising purposes want to make a positive impression. We've set ourselves the goal of developing models that stand out in the sea of writing instruments. The design language of our writing implements also offers customers the perfect advertising medium."(Peter Ullmann, Werbeartikel Nachrichten, December 2007 edition)

Ballpoint pen design is a top priority at uma. Along with the entire team at uma, Peter Ullmann and his sons Alexander and Jochen are constantly developing new, extravagant ideas. The results are modern, innovative writing instruments based on current market trends as well as future trends. It's therefore little wonder that uma has been a trendsetter for so many years!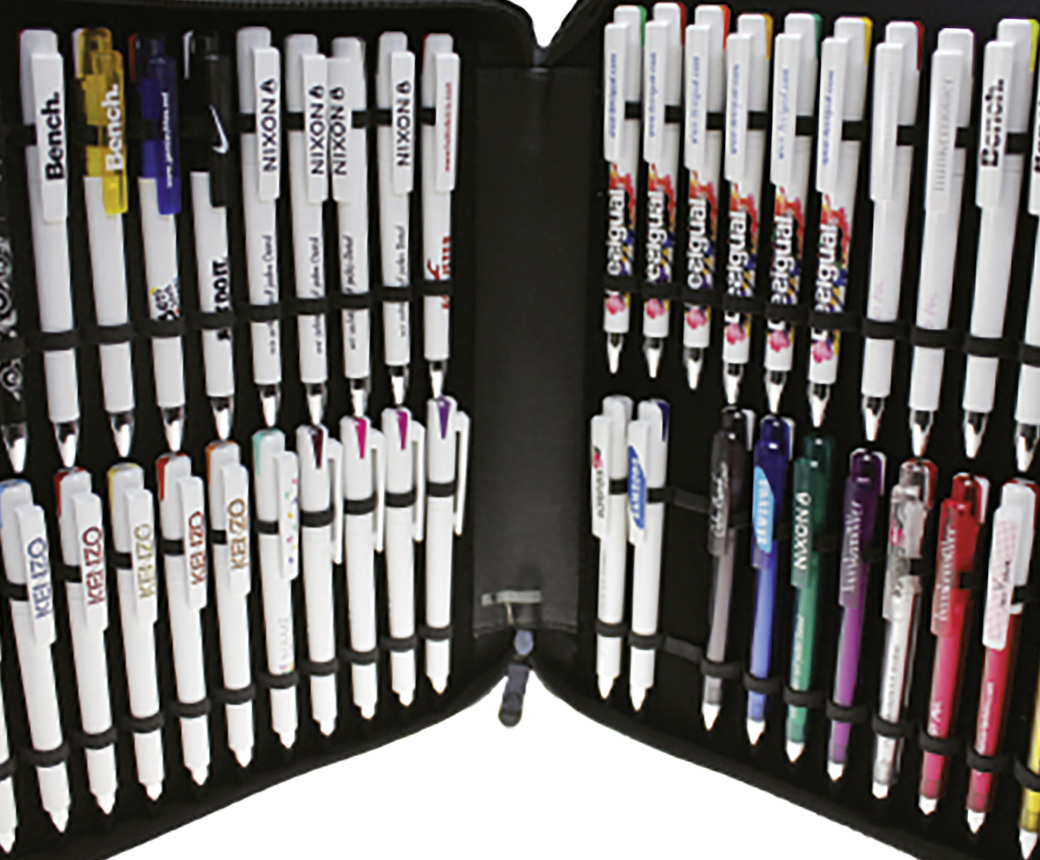 "We listen to the market, carry out plenty of customer talks to discover trends and find out which price categories, colours and materials are in demand and what requirements need to be fulfilled in terms of customisability." (Peter Ullmann)
Trusting the design once the profile of requirements and number of new models has been ascertained by the managing directors, they either create model samples themselves or ask freelance designers with experience in the industry to draft a design. Once the design, function and price range of a model has been determined, injection moulded tools are built and an initial batch is produced to test the product. They are then sent for batch production upon approval.

Production
uma works with trusted partners locally and abroad to help produce our writing instruments. Thanks to a broad and stable network of experienced businesses, we are in a position to reliably and flexibly cater for all of our customers' needs while offering an excellent price/performance ratio. Due to increased demand for German-manufactured products - and our willingness to pay the price for products "Made in Germany" - we are relying more on German injection moulding companies. Meanwhile, we continue to rely on our network of Asian producers in order to continue offering attractive products across all price categories. At any rate, our customers should be able to rely on proven uma quality for all of our products: All of our models are our own developments and are subjected to the strictest quality standards.

"For us, corporate responsibility is not limited to empty words or filling out certificates. We've been working with some of our partners in the Far East for more than 30 years, are familiar with the factories in the Far East and have always influenced production to ensure that our standards are upheld in terms of quality, product safety, working conditions and environmental sustainability." (Alexander Ullmann)

Assembly
uma products are synonymous with quality. That's why almost all of our components are assembled by qualified employees at our company headquarters in the Black Forest, who turn them into typical uma quality writing instruments. A reliable team of homeworkers and numerous assembly sites provide maximum flexibility. With around 170 homeworker families based near the Fischerbach site, we're able to guarantee short channels and fast, efficient processes.

State-of-the-art customisation park
"Along with product development, it is without doubt the excellent skills in customisation techniques that shape the uma brand and production facility in Fischerbach, which is also the heart of the company." (Alexander Ullmann)

All finishing and customisation work is carried out by qualified employees at the uma headquarters in Fischerbach. This not only guarantees efficiency and flexibility but also the uma quality we've come to expect. Demanding production processes? Sounds perfect to us. We work on state-of-the-art silkscreen and pad printing machines to create high-quality, multi-colour and UV imaging along with vibrant colour gradients. We use innovative laser technology, etching and sophisticated engraving processes for our metal ballpoint pens.

This gives us the flexibility required to perfectly realise advertising messages. The finishing options from uma are as individual and diverse as your customers.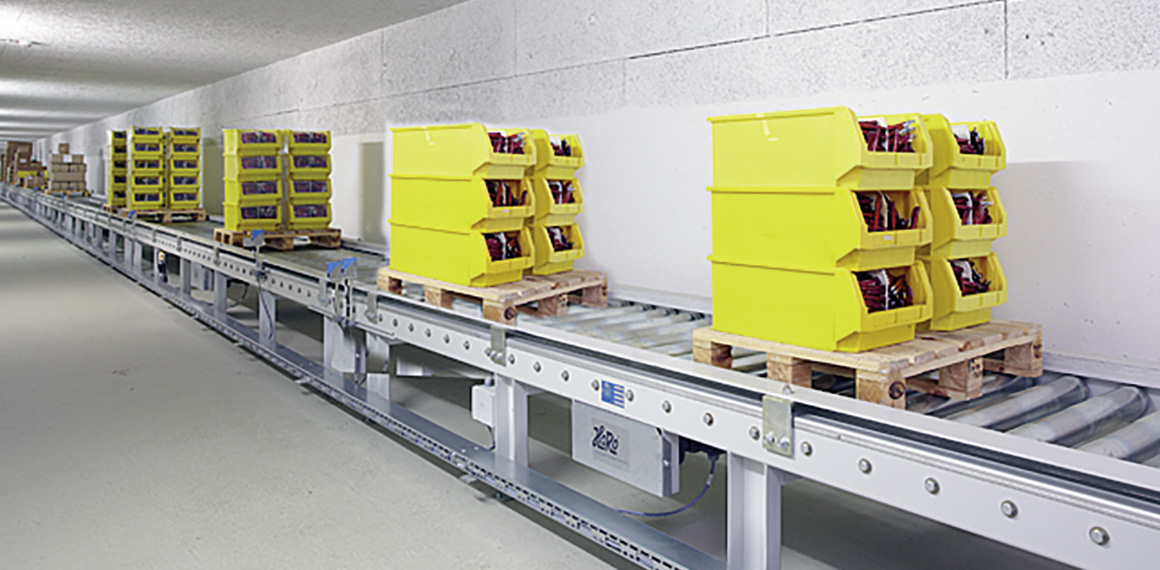 Storage capacity
"Currently out of stock" – that's something you won't hear at uma. Our large 6,000 m² production and warehouse facility gives us scope for extremely short response times. This means we can instantly and reliably fulfil (almost) every customer request.
Quality – our hallmark
Ongoing further developments and safeguarding our high quality standards help us maintain our leading market position:

"A ballpoint pen that doesn't work not only fails in its advertising purpose, but is also negative advertising. This is how customers are lost. We therefore focus on the uncompromising quality of all components in order to create writing instruments that will serve their purpose for many years to come." (Alexander Ullmann)

We have remained true to our values right from the start. What makes us successful is "the philosophy of a family-run business which impressively masters the art of balancing tradition and modern, handmade and automated production processes, local and global partnerships." (Werbeartikel Nachrichten, October 2014)
Custom products
uma's motto is "There's no such thing as not available". That is why in addition to uma's comprehensive range of various models of appealing pens, we are also available as an experienced, creative and reliable partner to help you create custom products. With our competence in product design and our worldwide network of production capacities, we can flexibly address almost any client wish – even for custom or OEM productions.

From a defined minimum quantity, pens can for example be manufactured in the desired client colour (Pantone Matching System), with a client-specific clip shape or even as completely new developments based on the client's template – for utmost individuality.

In such custom productions, it is essential to have a close relation in order to implement the requirements and ideas optimally and efficiently. Get in touch – together we'll find the right solution for you.
Packaging options

A high-quality writing instrument draws attention to it and the right case or packaging perfectly rounds off the advertising image. uma is a real driver of innovation in this area, too. An example: The uma INLAY case, which received the Promotional Gift Award for its customisable design options. However, this is far from everything that uma has to offer when it comes to packaging – simply take a look here.
The refill – the heart of every writing instrument
"All of our refills are quality European products with outstanding writing performance and a particularly pleasant feel while writing. This quality ensures an appropriate lifespan and the sustainability of all uma writing instruments." (Jochen Ullmann, Werbeartikel Nachrichten, October 2014 edition)
uma quality refills are the heart of every writing instrument and great value is placed on refill quality. Thanks to the use of German paste and compliance with ISO standards, these European uma quality refills promise quality across the board. 
Handwriting is characterised by its individual typography. That's why you'll find various refill options for all kinds of writing instruments in the uma refill range. From ballpoint pen, rollerball, pencil, gel and fibre refills, with a uma refill you'll be holding quality in your hand.
Delivery times
You can rely on uma. This is true not just for the quality of our products but for our faithfulness to the delivery schedule. Our customers value our speed and high flexibility. With our large storage capacities and our on-site finishing options, we can react to all requests at very short notice.

The delivery of neutral warehouse goods usually takes place on the day after the order was received. Pens with advertising placed on them require some 3 weeks from approval. Custom products with longer approval and production processes take a little longer – but we keep you informed every step of the way.
uma customer support – competent & personal
"You can replace the biro, but not the customer support" (Alexander Ullmann).

To find the perfect advertising pen for our clients – that is uma's mission. That is why we also focus on comprehensive customer support – from A to Z, always competent, always personal. We offer our partners a comprehensive package of documentation and sales-inducing promotions: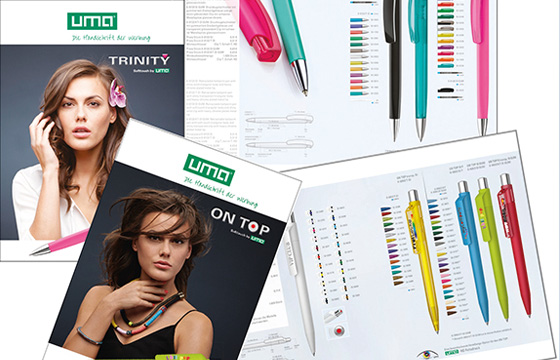 › Free provision of the uma sales documentation in the form of neutral catalogues
› Provision of the uma sales documentation with sleeves in the trading partner's colours
› Regular sending out of samples to support sales
› Free, generous provision of samples
› Individually designed sample folders/boxes
› uma Selection brochure, a small selection from cost-effective to high-value, practical sales aid for the industry −> from consulting to the end customer
› uma Cloud −> image data transfer
› Provision of complete database and images for Web shops of trading partners uma myCase −> POS presentation system
› Online flip catalogue
› Marketing tools/advertising campaigns with the end customer as target group
› Participation in company fairs and novelty shows of trading partners
› Creative design service −> developed templates/design suggestions
› umaExtranet – neutral websites/newsletter info −> with own logo and address
› Fast quote preparation by asking the right questions:
• What model?
• What material?
• What version – twist or push ballpoint pen?
• What colour combination?
• What logo placement – position and finishing?
• What budget or price category?
• What is the customer's desired schedule?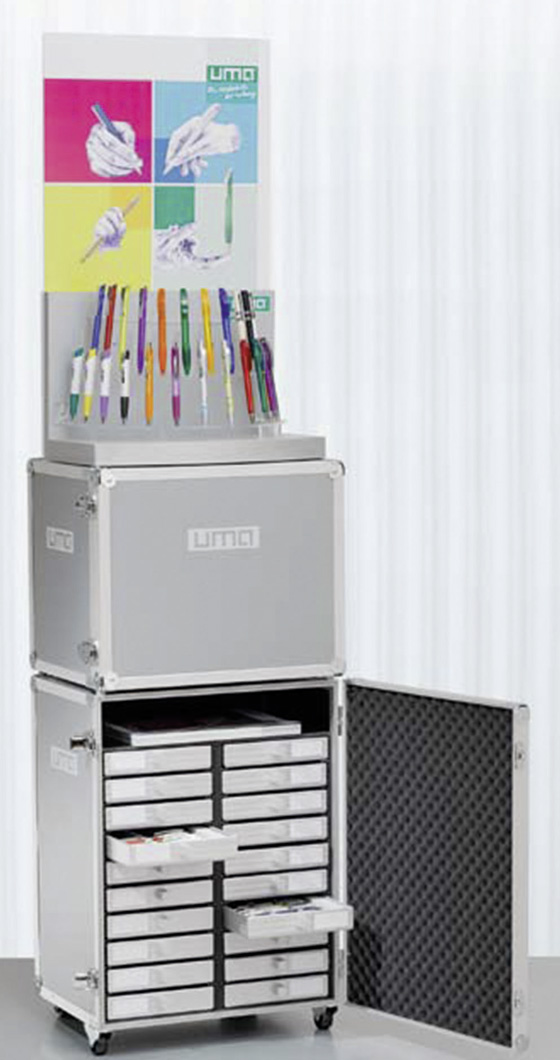 Quality, environment and social responsibility – uma Secrets
As a leading company for innovative advertising pens, our customers' satisfaction is our top priority. We believe that quality spreads by word of mouth and has a further reach. We also follow this belief in our actions as an employer. We take responsibility very seriously – not just with regard to our employees at our headquarters in Fischerbach, but also with regard to the working conditions at our suppliers abroad.

In addition to our membership in BSCI and SEDEX, we ensure that our partners adhere to basic principles, and we monitor these guidelines throughout the entire production process. At uma we stand for a healthy, international company development where people, not just numbers, are at the forefront!

In the area of sustainable raw materials, uma is also moving with the times, and we hold the PEFC certificate. Learn more about the uma Secrets on the subjects of quality, environment and social responsibility.
How can I get an uma pen?
uma pens are exclusively sold through advertising materials traders:
"Despite the increasing market transparency, our trading partners are an essential element in the successful sale of uma pens. To continue the internationalisation of the uma brand, we will expand the partnerships and so further increase our name recognition" (Alexander Ullmann).

We offer customers from the industry the possibility of informing themselves about our products through our website, our product configurator and our catalogue. The prices listed in the catalogue are industry prices. The placing of a quote and the execution of a contract then take place via the trading partner selected by the client. Our team are always available to answer any of your questions.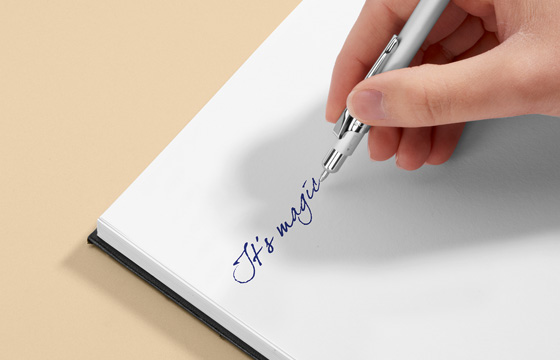 uma – a strong history, a strong company
Over 60 years ago, Fritz Ullmann, founder of the company uma Schreibgeräte Ullmann GmbH, recognised the following fact: "A ballpoint pen is more than just a pen!" With his idea to use pens as advertising media, the recipient of the Federal Order of Merit of the state of Baden-Württemberg literally wrote history.



uma in keywords:

• Over 70 years of experience

• Innovation pioneer in advertising pens

• Varied options for individualisation

• Wide range of products

• Unique uma customer support

• Authenticity and creativity: distinguished from the rest by our special advertising pen ideas

• High standard of quality

• Flexible and reliable delivery times

"With a broad programme of pens, a high level of customer support and an above-average quality as well as many possibilities for individualisation, uma has developed into one of the leading European manufacturers of advertising pens. The success story of the company from the Black Forest rests on a high consciousness of its responsibility to the environment, employees and region" (Werbeartikel Nachrichten, October 2014).