What motivates uma? First of all, we are motivated by our customers that we are pleased to inspire with innovative and high qualitative products. Making the world of promotional ballpoint pens more responsible from a social and ecological point of view - that is also our goal. Receiving an award for this would be a further confirmation that we are on the right course.
Awarded sustainable innovation – uma wins German Innovation Award in Gold

The German Design Council has presented companies with the German Innovation Award for the fourth time now. This prize by the renowned institution, which is awarded annually, recognises meaningful product innovations that are on the one hand forward-looking, but also increasingly distinguish themselves through user-centred development and thereby make our everyday lives better and easier.

The uma recycled PET PEN serie was awarded of the German Innovation Award in Gold – the highest accolade awarded by the jury in this prize.
Learn more about the award-winning uma recycled PET PEN writing instruments series.
German Innovation Award 2021 – Nominee
That's right! We are nominated for the GERMAN INNOVATION AWARD 2021 for our RECYCLED PET PEN PRO series.

The German Innovation Awards honour products and solutions across sectors, which differ from previous solutions mainly by being user-centred and offering added value. They do so because there are innovations in all sectors that shape the future and improve life. Sometimes you see them at first glance – but often not. The German Innovation Awards aim to change that. They make great achievements visible to a wide audience and ensure successful positioning in the market.

We are really excited about the opportunity, and whoever knows uma Schreibgeräte knows that we love a good challenge!
PSI Sustainability Award 2021
We are pleased about the nomination for the PSI Sustainability Award 2021 in no less than 6 categories. From the consumer's point of view, the topic of sustainability is increasingly becoming the focus of purchasing decisions.
The PSI Sustainability Award is the only sustainability award in the promotional products industry and we are proud to be able to convince in various categories again this year.
uma was nominated in the following categories:
- Economic Excellence
- Environmental Excellence
- Social Excellence
- Social Initiative
- Sustainable Product
- Innovator of the Year
The category "Innovator of the year", was awarded for the first time this year. It is not only about a sustainable product, but about a comprehensive sustainability strategy in the whole value chain of the products and the company.
PSI Sustainability Award 2019
Environmental Excellence – 3rd place – Awarded for investments in sustainable action!
At this year's PSI Sustainability Award 2019 we were lucky to receive an award again. We received the PSI Sustainability Award in the category Environmental Excellence for our investments in the production of climate-neutral writing instruments.
We were also pleased to be nominated in a total of five different categories.
Learn more about sustainable advertising at uma.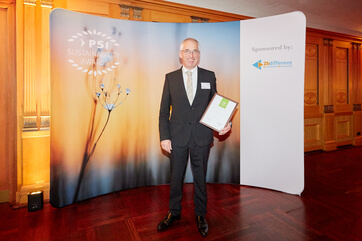 uma wins! And belongs tot he TOP 100 Innovators 2019
Creativity, imagination, empathy and the courage to innovate are in demand – this is how innovative ideas are always created at uma. The involvement of our employees in strategic planning and the frequent inquiries of customer wishes enables us to recognize market needs as quickly as possible and often to be faster than the competition.

We were among the best in the TOP 100 innovation competition. In an independent selection process, we scored particularly well with innovative processes and innovative management. The fact that forward-looking action is also reflected in innovative products was impressively demonstrated with the uma recycled PET PEN series. The use of alternative materials and the investment in new production processes make uma one of the TOP 100 most innovative companies in the German SME sector.
Click here to discover more about the uma RECYCELT PET PEN SERIES .
Click here to discover more about the AWARD
Nominated for the German Sustainability Award
The German Sustainability Award (DNP) is both the best known and the most coveted of all the environmental, CSR and sustainability awards awarded in Germany. Over the past 10 years, the DNP has developed into the largest award for close action in Europe. For this reason we are very proud of our nomination this year.

After an assessment by the Collaborating Centre on Sutainable Comsumption and Production (CSCP), the uma model PET-PEN was nominated for the 

11th German Sustainability Award ("Germany's most sustainable products") by the jury of the German Sustainability Award as part of the REWE Group consumer voting.
After winning the PSI Sustainability Award 2017 in the category "Sustainable Writing Instruments", a jury of experts was again convinced by the upcycling idea uma PET-PEN. 

You can find more information about uma PET PEN here: rPET – recycled PET bottle .
UMA-CERTIFIABLY SUSTAINABLE
Customers are increasingly basing their purchasing decisions not just on quality and price but on how products are manufactured and who is responsible for this process. Unfortunately, responsible corporate behaviour cannot always be taken for granted. That is why we have submitted ourselves to external audit.
EcoVadis is a programme that assesses companies against 21 sustainability criteria. Under the programme, we were compared to 40,000 companies in 110 countries and we are proud to have been awarded a silver medal for 2019. Our CSR performance score came out as above average. Using a scorecard available on the EcoVadis online platform, we can now share our result with our customers and show how we are complying with our CSR obligations. The resulting transparency and credibility help to maintain long-term sustainable behaviour.
Because for a third-generation, family-run company, thinking about the next generation is something we do every day.
Sustainabilty Awards 2018
In the truest sense of the word 'sustainable', we have presented ourselves at the Sustain-ability Awards for the 4th year in succession. Once again, the result in 2018 is a memora-ble one. Nominated right away in 3 categories, we were awarded 2nd place in the "Social Excellence 2018" category. The jury praised our social commitment towards the men and women who work for uma as well as the social projects associated with our business ac-tivities, facilitating an optimum balance between family life and the world of work in Fischerbach.
7 nominations in 4 years, 2 first places in the categories of "Sustainable Product 2017" and "Social Initiative 2015" and a 2nd place are encouragement enough to continue our efforts along these lines. 

Learn more in umaSECRETS > about how we live out our CSR and sustainability. You can become part of our philosophy and discover sustainable products, social projects and the protection of a sustainable supply chain.
With its RECYCLED PET PEN, uma has demonstrated that the end of the plastic bottle does not have to be The End. Old PET bottles are collected, washed and shredded. Then the resultant raw material is melted to form a granulate and is cast into moulds. This enables a 0.5 litre PET bottle to be turned into a uma RECYCLED PET PEN: robust, durable and attractive.

With this effective form of 'upcycling', the writing implement specialist from the Black Forest has not only demonstrated its innovative powers convincingly. It has also set an example in sustainability that others would do well to emulate. For this, uma was presented with the Sustainability Award 2017 in the category of Sustainable Writing Instruments.

The wording of this testimonial reads as follows: "A successful concept, in particular in terms of the communication concept together with Bionade and the regional identity of the product. A success story"! For more information, please visit www.psi-awards.de and www.uma-pen.com.
With the initiative series 'uma assumes responsibility' we received an award in the 'Social Initiative 2015' category. Specifically for supporting a supermarket in a rural area with the provision of everyday goods, for providing support to social facilities through the Fritz-Ullmann foundation, as the project "senior-friendly living" in Fischerbach, and other social associations. This commitment convinced the jury.
A multi-member jury chose us and our INLAY CI as the finalist for the Promotional Gift Award 2015. Among several hundred submissions, INLAY CI was able to assert itself against its competitors and has been added to the list of winners.
PSI Sustainability Award 2015 – Environment Initiative – Nomination
In the category 'Environment Initiative', attention is paid to the extent to which companies implement environmental protection measures. At uma this commitment takes numerous different forms: CO2-neutral printing, climate efficient building technology and PEFC-approved products made from wood, just to name a few. Besides, with the participation in the project 'Energy for the citizens of Fischerbach", uma has set itself the long-term aim to achieve climate objectives and to conserve resources
PSI Sustainability Award 2015 – Social Excellence – Nomination
The category "Social Excellence" regards the working conditions of companies at their production sites. In this respect, uma attaches great importance to faire, equitable and sane working conditions, an aspect for which the company has also been certified.
Would you like more information?
Simply send us a short note, and we shall contact you !
Please use our Contact Form for inquiries, remarks and ideas.
Please note that the boxes marked with an asterisk (*) must be filled in to enable us to process your input properly.